Bunnykins History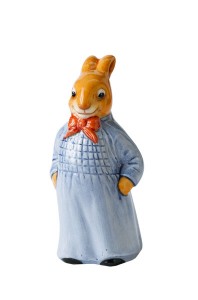 Bunnykins figurines and tabelware are produced by Royal Doulton and the first Bunnykins designs appeared on a a range of ceramic nurseryware in 1934, from drawings by Sister Barbara Vernon. Barbara's father Cuthbert Bailey was Doulton's managing director at the time and he took the drawings and created a series of nurseryware based on the Bunnykins characters.
The first six Bunnykins figurines were issued in 1939 and were modelled by of Doulton's leading artists Charles Noke. The six Bunnykins were Billy Bunnykins, Mary Bunnykins, Farmer Bunnykins, Mother Bunnykins, Freddy Bunnykins and Reggie Bunnykins.
Production of the original six Bunnykins characters was never resumed after the war, and it was not until 1972 that the first new issues hit the market. After The Royal Doulton Group acquired the John Beswick Studios, Doulton decided to apply the skills of Albert Hallam, the modeller responsible for Beswick's popular Beatrix Potter series, to their Bunnykins range. Between 1972 and 1973, Hallam produced 12 figurines based on designs originally done by Walter Hayward for the nurseryware range. These were the first Bunnykins figurines to carry 'DB" numbers, which have been conferred on the characters ever since. More than 400 DB numbers have now been issued.